| | |
| --- | --- |
| | For bike to work day I found a method to commute by bike even though I work from home. Sounds like the best of both worlds to me and more often than not it is. |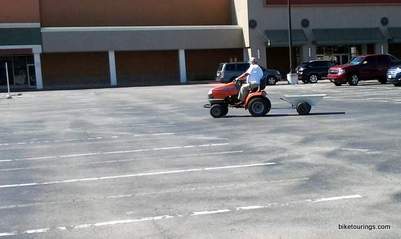 While it's National Bike Month I have been trying to ride more often, so what is a person to do who works from home on National Bike to Work Day? Why, go around it, of course. I'm not much for reading about statistics or really too concerned about what other folks are doing for that matter but it is nice to hear some good news from PBS News Hour where studies indicate a sixty percent increase in bike commuting in the U.S.
Click here to read the story.
Now that we have our home based business I continue to commute by bike for errands and such. For Bike to Work Day I wanted to ride to work so I put my old Bridgestone MB 1 in our trailer we use for our business, found a convenient hassle free parking area and then rode my bike back to our store. I needed to temporarily move the trailer for the day anyhow so it worked out very nicely and working from home for National Bike to Work Day turned out to be a fun opportunity for bike commuting. After parking the trailer and beginning my bike commute to our store I got a good chuckle from seeing our resident lawn mower commuter and just had to get a photo and mention him for bike to work day. What a character. After noticing his little wagon type trailer pulled behind his mower I thought of the importance of being able to conveniently carry items on the bike in an efficient manner. I suppose it has something to do with the fact the guy is riding a lawn mower but I remembered the nice functionality of the
Detours Town and Country Grassy Basket
I found a month or so ago. I had initially installed that basket on my old Puch Bergmeister but as I have been riding the Bridgestone for most of my errands I thought it would be so nice and convenient to use that basket more frequently. After reviewing the
Origin 8 Classique Cargo Carrier
,
Sunlite Deluxe Quick Release Rattan Basket
and then the Detours Town and Country I have found the Town and Country to be a favorite for picking up a few groceries or a six pack with the drawstring closure and waterproof rain cover it's nice to use as a more versatile basket and pack bag combo.
Thought I would share one of our favorite bike commuting accessory ideas for folks wanting to commute this month. At any rate, hoping y'all are enjoying National Bike Month in your part of the country by participating in the various events or quietly acknowledging the efforts of the bike advocacy groups who have done so much to improve bike commuting in the U.S. Finding detours and ways to go around those areas that are not considered bike friendly gets easier with experience. After years of navigating city streets and suburbs having a versatile bike for going around potential hazards has become a fun way to improve riding skills and reducing risk.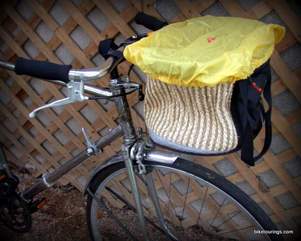 This photo shows the rain cover for the Detours Town and Country Basket on the Old
Puch Bergmeister
and I am looking forward to reviewing other products from Detours including some Panniers for bike touring and camping. Here's a link to a sneak peak of their
smaller Pannier Set
that can be used on front or rear rack.