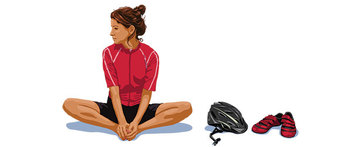 Most active folks know the importance of stretching to avoid personal injury. Particularly as we age maintaining elasticity of muscles, tendons and ligaments not only prevents injury it also helps to prevent sore aching muscles.
Popularity of yoga and other such activities is proof of an appreciation for limber joints and some
yoga poses featured in Bicycling Magazine
address common problem areas for cyclists experiencing painful discomfort on longer rides. Finding the time in a busy schedule which usually consists of juggling work and family it can sometimes be difficult enough just to find time to get in some bike ride time let alone plan a bike tour. So incorporating stretches which can be performed while riding is not only convenient but is very practical especially if you're on a long ride such as bike touring. A touring bike is best suited for stretching activities as the longer wheel base and common upright riding position will feel stable while stretching on the bike.
In this free ebook from Aurora Health Care there are some very good stretches for cyclists with photos showing stretches that can be done while on and off the bike.
Click Here to download their free ebook in PDF format
.
There is so much information concerning packing lists for bicycle touring knowing how to stretch properly while on and off the bike is just as important to know for a bike tour as is packing a spare tube or patch kit.
For further reading on this subject visit Bicycling Magazine's
"Seven Steps to Pain Free Cycling"
with very good information describing various stretches and how us bike folk benefit from the stretches described.