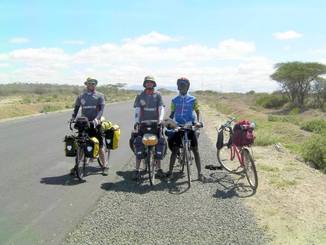 Africa is the kind of place most all folks associate with exploration and adventure with the word Safari being directly associated with wildlife tours and sightseeing.
Good news! Our friends at
Afro Ngosha
are providing bicycle touring services in Tanzania, Africa. Folks interested in exploring one of the most beautiful and charming areas in the world can schedule their visits and have access to Afro Ngosha's knowledgeable and talented staff.
As rich in cultural heritage as it is in natural wonders including wildlife, famed Kilimanjaro, white sand beaches and a wealth of entertainment are just some of the things which attract people from all over the world to explore that particular region of Africa.
Due to the fact that
Afro Ngosha Adventure
is best known for providing hiking tours, when I heard they were providing bicycle tours I thought I'd give it a "blog about" in helping promote their services as most folks may not realize they can schedule bike tours as well.
Eco Africa Organization
at Afro Ngosha's site explains their unique approach to ecologically conscious tourism services the company offers. By scheduling your bicycle tour with such a diverse and interesting group of knowledgeable folks you're also supporting an organization which
"seeks to encourage the identification, protection and preservation of cultural and natural heritage around the world considered to be of outstanding value to humanity". That quote from the company's site gives you an idea of the type of folks who would providing your services, knowing you're in good hands while adventuring and exploring an area which includes three of Africa's seven natural wonders.
Eco Africa Tours Provides Educational Knowldege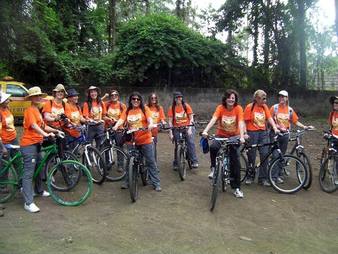 Whether you are an advanced mountain bike rider or entry level bike commuter wanting to splurge on your first bicycle adventure,
Afro Ngosha's Eco Africa tours
will provide you with the support, accommodations and knowledge customized to suit each and every individual's particular needs. Men, women and children as well are encouraged to visit the company's site as the company provides something for the entire family. With a multi-lingual staff knowledgeable in the flora and fauna as well as preservation concerns most folks visiting the Tanzania region by way of Eco Africa Tours leave with an expanded vision and knowledge that can help in educating and preserving a wonderful heritage for generations to come.
Eco Tourism as a sustainable means of providing adventurous as well as environmentally conscious exploration having become a vastly popular method of vacationing around the world. Implementing such a beautiful approach to their bicycle touring services is a unique way for folks to connect with one another while bike touring and something I have wanted to emphasize in this post for Eco Africa's efforts toward sharing their vision and company's mission as stated in the following quote.
"KARIBU" is Swahili for "welcome", and is the first friendly word most visitors will hear on arriving in Tanzania for holidays and safaris. Our purpose is to educate the community, provide funds for ecological conservation, directly benefit the local communities and foster respect for different cultures. The concept of Eco tourism is known as the magic triangle because it benefits local people, environment and their culture. We aspire to support the cultural ethics of the community while simultaneously assisting the community to embrace change.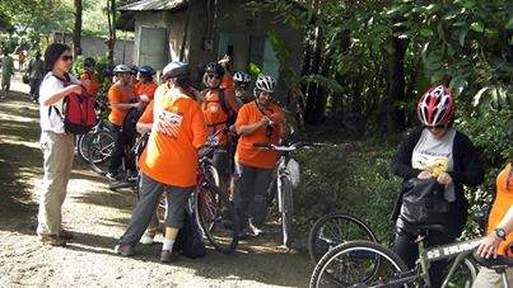 I hope you have found some of these ideas provided by Eco Africa as something which can enhance and enrich your bicycle touring interests while exploring Africa or elsewhere. By visiting their site the information and current projects might help one's own outlook toward their own community and find a new appreciation for one's own personal as well as regional heritage.
Visit Afro Ngosha's Eco Africa Tours
for more information whether you're looking to schedule a bicycle tour or not, their site and blog is full of good information regarding Tanzania, eco tourism and more.