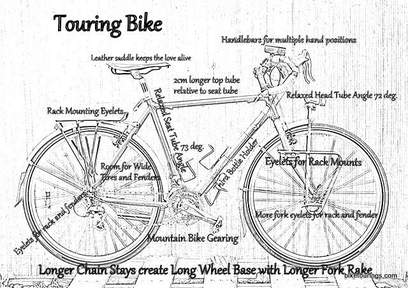 Having owned a bike shop that was an authorized Surly dealer, I've built up a few Surly frames for some very happy folks. The
Long Haul Trucker frameset
was my favorite frame to build from Surly and one of the few times that I experienced what is referred to as "bike lust".
Relaxed frame geometry, extra spoke holders and ability to fit larger tires with fenders and racks it's an excellent frame set for a touring bike. All that is included in the excellently designed Long Haul Trucker fork with longer fork rake, steel crowned forks provide nicer handling than oval forks and of course plenty of threaded eyelets for mounting fender and rack.
When considering bike anatomy the frame is the most important factor when considering bike purchase. Things to consider for frame assessment consist of design, materials and quality of building.
Design of a frame especially for a touring bike is very important, long wheel base, relaxed geometry, longer chain stays providing room for rear rack panniers. Head and seat tube angles not only provide a more relaxed riding position but helps to transmit road vibration away from rider's contact points on the bike, hands and buttocks.
Materials of a frame for a touring bike or bike commuter vary and most folks these days prefer good old steel to aluminum or carbon fiber and 4130 chromoly is good quality steel material.. Reasons are many but most notably is steel is easy and inexpensive to repair as well as providing a comfortable, less rigid ride.
Quality of Building is typically something that is acquired over time with a proven reputation. Surly has established themselves as a quality frame builder not only in the bike touring community but pioneering some of the most innovative fat bike designs and playing a major role in bringing popularity to that style of frame building.
Today, when I look over the specifications of any touring bike frame and fork combo I compare it to the LHT's design. Surly designed a frame and fork that feels to some owners that it rides better when loaded with panniers as it is meant to do than without a load. Lots of folks purchase the
Long Haul Trucker
as their "all rounder" one bike that does it all for them. Bike commuter, casual trail rides and of course light or fully loaded solo touring rig the Long Haul Trucker has become extremely popular over the years as proof of Surly's successful design that not only provides superb quality it is reasonably priced. This is a good time of year to purchase the
Long Haul Trucker frameset
as quantities are limited and will sell fast, particularly the more common sizes of 54cm, 56cm and 58cm frame sizes.
Once in a while I reminisce about those Surly days at our shop. Thanks to Surly for providing so many fond memories with their wonderfully designed
frame sets
.
Use links provided to in text to shop for your size of Surly Long Haul Trucker use link provided.