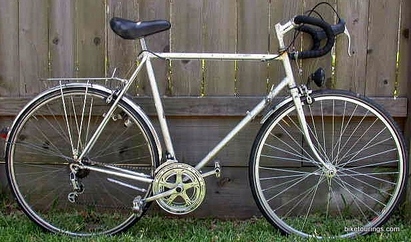 While I have been refurbishing some older classic touring bikes that find new homes with bike commuters I seem to always display some reluctance in letting them go. Lisa laughs about this and says "that's one of the things I love about you, you love bikes so much that they're all gems".

She's right about that, however it's not only the bike itself often it's the hard work and effort of putting a bike back in working order so that it rides as it was meant to ride. Today a gal is coming to look at this old gem of a touring bike in the form of a Motobecane Prestige. A very rare bike that is designed specifically for a bike commuter with keyed spoke lock, generator lights, original steel chrome rear rack and fenders. It's not that I rode it all that often but when I would it was fun riding at night with the generator efficiently whizzing along. Today's after market bottle generators are not of the same quality as the one on this bike made in Germany, doesn't get hot at high speeds, works very well even at very slow speeds and because it is an integrated model with braze on plate for the generator it never needs adjusting. I had replaced the stem after someone had over tightened the stem bolt breaking the expanding wedge inside the head tube, so that when I replaced the stem as necessary I created a more comfortable riding position. After adding Schwalbe Marathon 700c x 32 tires providing a durable tire for the generator I considered keeping this bike but at 58cm it is a bit tall for me.

It's times like this I need to remind myself why I want to sell a bike like this besides the fact it's a bit tall. I didn't want to replace the rear Mallard hub wheel and I don't like working on those things. I was barely able to get the wheel trued out enough radially for it to ride without a noticeable hop so that most of the original drive train is intact after replacing the cottered crankset with an inexpensive chrome steel chain guard model. I like the crankset for the ability to ride with any type of work pants without a pant leg getting frayed and oily. A very bike commuter friendly ride indeed. So, as I anticipate bidding that bike a fond farewell this afternoon here are some photos of this retro classic steel lugged frame beauty we like to call Eleanor. Some of these old classic bikes have a warmth and depth of simple elegance and longevity of performance that lends a comforting vibe to my atmosphere of "Bikeology". Out with old and in with the new I suppose, not that I need to learn how to let go and move forward but will nonetheless miss the presence of such a fun old touring bike. For awhile anyway, then I will just keep riding.
Cheers!
| | |
| --- | --- |
| Original, made in Germany bottle generator and spoke lock. Notice brazing to frame for mounting plates on both the spoke lock and generator, Good design for bike commuter. | Very small brazing for generator light wire routing under down tube for hassle free performance. Not zip ties on that bike. Another quality design incorporated into this frame for bike commuter. |