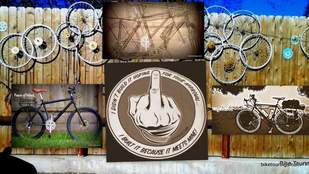 Blog is an odd word, not sure who coined the term but it probably comes from the term "mumbo jumbo" or "rigmarole". This thought came to me about the time I was asked if my recent bike build of a Nashbar mountain bike frame was a "poor man's fat bike wannabe".

Hmm, now it's fairly obvious to me why I thought of word association given the context as the question alone sounded like "mumbo jumbo" and my answer could have been a long explanation sounding like rigmarole. After further consideration I would sincerely like to thank that person for making such an insulting remark in the form of a question.

Now that it's winter snow bike bunnies everywhere are climbing aboard their lofty fat tire bikes and dashing through the snow without a care in the world, good on 'em as my Texan neighbor would say. I want to be clear that I am not defending my bike build here, in fact I know it has its' own niche as I've ridden on snow and ice plenty and it is loads of fun. Now realizing that my own bike build is a bit unique and would conjure an association with fat bikes I'm flattered. I suppose the style resembles a fat bike with the sweeping handle bars, sturdy steel front rack and pseudo fat tires at a mere 2.35 inch tire diameter.

Now there is no denying that I built this bike "on the cheap" mostly because I was able to without compromising on a quality bike build. By quality I am suggesting the objective view of the term which is a bit more technical than simply reciting what is read in mountain bike magazines or on the internet. Not that it's all "mumbo jumbo" mind you, just to say hey, I found some incredible prices on some new old stock parts that I wouldn't trade for some of today's top of the line components. Perhaps I'm a bit of a retro grouch, but that doesn't really apply here. It's more of a work with what you have where you're at scenario and that' that.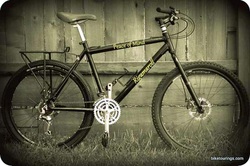 What is the best bike for commuting? This is, for the area I live at that is not accustomed to seeing bike commuters rolling around with cups of coffee and laptop bags on their way to work, no this area's bike commuter lanes resemble deer trails in the forest where commuters have carved out their own bike paths through grass fields where there is the absence of sidewalks. Upon assessing my bike commuter needs I set about building the "Rigmaroll" it quiets the noisy complaining of bike commuter rhetoric where there are no bike lanes and for an area that isn't considered "bike friendly". It is now, at least for me anyway, anyhow, the "Rigmaroll" is my best bike for commuting.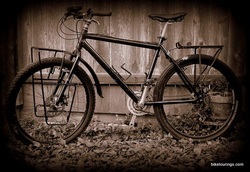 After completing the Rigmaroll build and feeling very satisfied with myself and the bike I decided to blend a bit of touring attributes for occasions where I enjoy going off the beaten path, go camping, trail riding and just having access to wide variety of recreational bike touring opportunities, so without further ado we built this touring bike we like to call the "Mumbo Jumbo". Now, based on the premise of the Maxxis Hookworm claim to be the original fat tire bike at 2.5" wide it's understandable why this mountain touring bike resembles a fat bike. Kenda Slant Six 2.5" front tire puts this bike at the so called claimed original fat bike size of tire. Since there's a bit of recent historical data in that reference the "Mumbo Jumbo" resembles that of the original Safety Bike in a classic retro style for a modern bike build that is versatile and practical in every sense without getting lost in rhetorical trends that come and go as planned obsolescence. A bike built to last surpasses trendy, we love fat bikes. Having said that, I didn't build it for your approval, I built it because it meets mine.
Cheers!