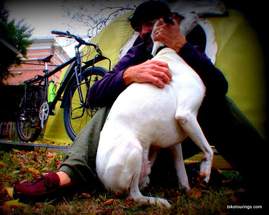 I will start off by saying just about any breed of dog is good for bike enthusiasts and getting a dog from the pound is even better. I am a dog lover having grown up with dogs as a kid I learned at a young age how joy their company brings to a home and atmosphere.

I would love to find an old polaroid from the late '60's of our English Bulldog riding a tricycle for this article and as fun loving, docile and affectionate as our old Polly was she couldn't keep up with a lot of activities such as mountain biking. Years later in my early twenties I found myself living with a black Labrador Retriever that my stoned out brother simply couldn't find the energy to care for. Perhaps he should have put the bong down but that's another story, or not. My brother had named him Peter and would send me paw printed letters showing the dog's growth while I was in boot camp for the Coast Guard.

After being stationed in Neah Bay, Washington I found so many opportunities for mountain biking, quiet dirt roads offered casual scenic bike routes to bike on the wilderness beaches and a town with no traffic lights and only one stop sign is a mountain biking haven. It was an ideal environment to have a dog and our Captain at the time agreed to let Peter stay on as the station mascot making it so much easier to keep Peter from being cooped up in the barracks. A few years later Peter met another Black Lab mix while we were camping in the Lena Creek Wilderness area on the Olympic Peninsula in Washington state. She was a magnificently agile dog who after finding her starving in the woods pregnant at what the veterinarian approximated to be nine months old, she had to have her puppies aborted and lived a long healthy life with me and Pete.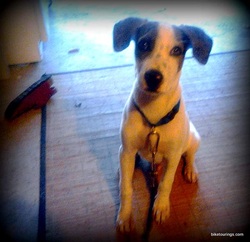 After my two dogs had passed away and each of them had lived to be thirteen years old I wasn't sure about having another dog in my life. That was until I met my new best friend in the form of a
Catahoula
puppy. I had never even heard of such a thing and had no idea that was his breed as I had found him at the dog pound and he seemed mellow enough compared to the other rowdy mutts, all of which would have made fun biking dogs. I was actually looking for a smaller dog that I could carry in my bike trailer and would let out once we arrived at the bike trails. That was my plan anyhow and Puppy just kept growing and growing. One day while at a petsmart store a woman in charge of "doggie day care" commented "that's a good looking
Catahoula
you have there". What the what?
Yep, there's lots of information on the Catahoula Mountain Cur from Louisiana and sure sounds like a mountain biker's dog to me. When he was little he patiently allowed me to put him in a pet carrier, which I placed into a single wheeled bike trailer and after a block or two he didn't seem to like it much as I could feel him throwing a mild fit causing the trailer to do some fish tailing. We didn't try that again as he grew to just about sixty pounds and doesn't fit in a pet carrier for my bike trailer. As this type of dog needs to run a couple hours a day or so he's now a fun trail riding, bike camping buddy. We practiced this racing each other on the single track around the dome workshop and after several attempts by him to bite my shin I gave him a love tap with my front rack and he has settled down knowing not to bite me when I ride. This was a recent topic at MTBR Forums and thought I'd give my good buddy a "blog about".