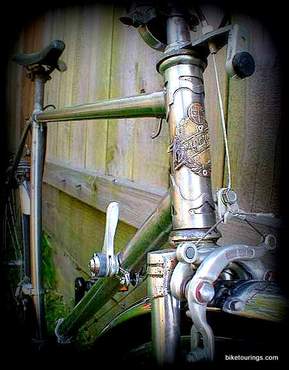 One of the most difficult bike restoration projects is clear coating a steel frame as there are so many options on how to accomplish the task and of course not all of them work very well.
Last year when I found an old Puch Bergmeister in the back of a pickup truck headed for the scrap metal yard I looked it over to see if it was worth doing anything with as the rust had all but destroyed the frame. With chain rusted solid, paint deterioration and surface rust it looked as though the frame may had gotten too pitted to be salvaged.
For ten bucks, which is what the scrap metal yard was shelling out for scrap I decided to get the bike to the shop and take it from there.
There are several methods for removing paint from a frame but due to the paint deterioration and rust I employed the most commonly used wire brushes, wire wheels on a drill, sand paper and Boshield Rust Free rust remover. After removing the worst of the corrosion I decided to strip off the rest of the paint with Easy Off oven cleaner. That worked very well and is much less labor intensive than the other methods. After spraying the cleaner on and watching the effortlessly drip the paint off the frame I repeated three or four times to get all the paint and residual corrosion removed. Then came the hard work of wire bushing, sanding and polishing working the surface and prepping it for a clear coat.
After I felt the prep work of the exterior surface was complete and after initial inspection of interior of frame which determined the possibility of this bike restoration project, it was necessary to treat the interior of this bike frame to prevent future rust or corrosion. There are two choices of product for this application either
J.P. Weigels Bicycle Frame Saver Rust Inhibitor
or the newer less heard of
Pro Gold Steel Frame Protector
. Pro Gold has been well reviewed as it is reported to be able treat several frames with one can but I haven't worked with that product.
The biggest question is what type of clear coating works best for applying to bare steel and cost relative to over all value of the bike. Powder coating with a clear coat was not necessary and other bike restoration guys were not entirely pleased with the results when compared to how much it cost. After much research and bouncing some ideas around we narrowed it down to two choices.
Everbrite Protectaclear
or the newer
Glisten PC
available from the trusted and highly reputable
Por 15 Paint Poducts
which are used for automotive restoration and painting projects.
Because the Everbrite Product was a mere $19.95 I thought I would try that first and requires a specific surface preparation method as do all paint products but if you're going to use Protectaclear you have must use
Maas Metal Polish
to clean and buff out the surface for proper adhesion.
New Bare Steel Clear Coat Product for Bike Frames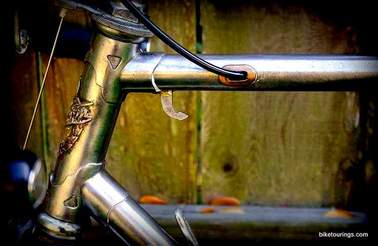 Photo at right and at top of page shows the nice look and finish after Maas Polish and Everbrite Protectaclear were applied. At the time we were completing this project the newer product mentioned earlier Glisten PC was not available. Although we like how the frame looks with the Everbrite product we have decided to consider a can of Glisten PC for $34.95 and see if it provides better protection from mild rusting. Here along the Texas Gulf Coast humidity and salt air are factors that contribute to rusting.
Our results after a year of storing the bike outside allowing rain and weather to test the Everbrite Coating we are relatively pleased with the results.
For average daily bike commuter use this product would be sufficient in maintaining a rust free frame with the bike being stored in doors when not being ridden. However, for a more durable coating and perhaps a more aesthetically pleasing look we are considering the new steel clear coat product Glisten PC.
This has been a popular topic in forums with folks asking lots of questions about clear coating a bare steel frame so thought I'd give it a "blog about". Visit the links listed below for more information regarding this topic.
Forum Discussion
Blog Article Opposed to Clear Coating Steel Frames
Lovely Bicycle Blog Article
Sheldon Brown Article for Steel Frame Prep and Paint
Italian Frame Builder Who Clear Coats Frames