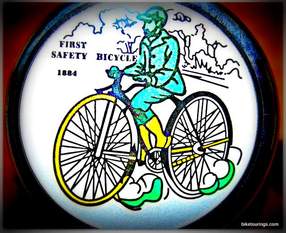 There is one more item to install on my custom built "Rigmarole" turned "Mumbo Jumbo". After all the hard work and effort that went into finding parts, both used and new, after a little over a year I find myself one day away from New Year's Eve. And what bike gadget or cycling accessory do you think I'm going to install on this beast of beauty? Why a bike bell of course!

One of my favorites pictured at left has its' vintage appeal in utter simplicity of style and function a bit like the bike I built. While today's techno gadgetry seems to find itself into everyone's lives these days they still haven't invented a bike bell app.

"This little light of mine, I'm gonna let it shine"...what a beautifully simple song that has meaning to many folks and is why it has become a classic. So, this New Year's Eve bike bells will be ringing around the world welcoming the New Year. And you can join in the fun by putting a bell on your bike, ringing it with distinction and singing along "this little bell of mine I'm gonna let it ring", and so on and so forth into the New Year of 2014.
This New Year's Eve if you plan on going out and partying with friends as most folks will be doing this time tomorrow night, let folks know you're riding with your buzz on by ringing your bell. Most folks will recognize that you are a drunkard and get out of your way making for a safe and happy holiday. Isn't that what we're talking about here? Not the drunk part but the Safety part, ok got it here at Bike Tourings we have both.

Bells have been used for signaling and communicating a sense of alarm and or celebration for centuries. It's an ancient remedy for warding off disaster, demons, the monsters you see on Squidoo duck and run when they here me ringing my bell. Oh yes, it's somewhat of a cure all, probably better than Google. If you can't Google it, ring your bell and it's all good.

This is all silly banter of course, like my "Rigmarole" commuter or my "Mumbo Jumbo" for whatever else I want to do. In all seriousness though folks, we understand how important it is to protect ourselves and others while bike commuting on busy noisy city streets or share path ways with pedestrians. While living in Portland a child was killed on one such type of multiple use path by a hit and run cyclist. Shame on him, a simple device such as a bike bell would have prevented not only the child from being killed but causing a good deal of contention between bike commuters and the city of Portland, Oregon.

Bicycle Bells can also be of good use while camping to ward off pesky racoons, opossums and other critters that you'd rather not share your tent or campsite with. Let's consider the bike bell as one of the most important accessory items for any avid bike commuter as no special training is necessary to operate this simple but elegant item and have a safe and happy New Year.
Cheers!