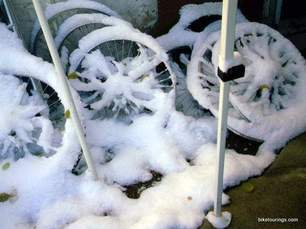 Ten years ago while living in Colorado I found it necessary to make a studded snow tire for bike commuting up and down a very steep dirt road to my cabin. Heck, it was difficult enough getting up that dry dirt road without my rear tire spinning out, let alone on snow and ice.
I found instructions for the aforementioned DIY snow tire from the
Edmonton Bicycle Commuters Society
. Visit
Ice Bike
for instructions for making your own. That was so many years ago I don't recall exactly what size pan head screw I used. No matter, following the instructions provided at Ice Bike will get you started. I do know that I used zinc pan head screws and rode them on dry asphalt to break them in. They worked so much better once the sharp tips were worn off.
Back then the only access I had to purchasing a studded snow tire was so expensive I didn't even consider it, which is why I made my own. Now, the availability and pricing is so much more reasonable for a quality studded winter tire that I would prefer to spend the forty or so dollars.
There are lots of tried and true brands of rather expensive studded tires. If I were in need of such a tire I would go with tires from Innova. Available in various sizes including 700c for a touring bike or 26" for a winter commuter mountain bike. Prices are very reasonable, links are provided below for more information or to purchase. Now that I am living on the Texas Gulf Coast I have no need for that crazy stuff.