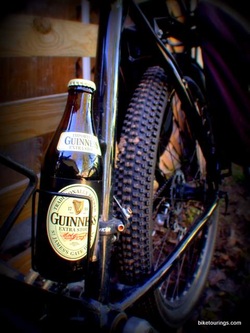 Ever popular MTBR (mountain bike review forums) has a
Top Five List of Beers for the Mountain Biker
. As most of us have discovered over the years mountain biking and beer are a blend of heaven, particularly at the campsite with good friends or family after kickin' it on the trails.
Companies like New Belgium Brewing with their Fat Tire line and so many others. While growing up in Portland, Oregon during the 80's there were no craft or micro breweries like there are today. Today, bike folk take to pedaling the streets to tour some of the finest craft beers in the country and has become a popular sub culture of bike and beer aficionados.
I have a dear friend from those Henry Weinhard days of Portland (thank goodness that's done) and I can here him now "Hey brother, I'm on my way with my bike, I'll pick up the road sodas". And he always picks up Guinness knowing that's all I want to drink. Now is that a friend? That's a friend.
It isn't pure selfishness on my part and he isn't kissin' my butt for me to guide his ride here, he understands now that if you're going to drink beer don't get ripped off, get something from it.What do I mean my that? Here's a link to a Study found on
nutritional benefits of Guinness
, a worthwhile read for anyone who enjoys knocking back a few while bicycle touring or on the way home from work during their bike commute. Here are four ideas to suggest you visit the article at link provided to read the rest of the good stuff for a quality bike beer.
This tastes-great, more-filling formula defies nutritional expectations because Guinness is so low in alcohol, a source of empty calories. Guinness is 4.2 percent alcohol by volume, the same as Coors Light. Budweiser and Heineken check in at 5 percent.
If the guidelines are less alcohol, fewer calories, fewer carbohydrates and, to top it off, protection against heart attacks, blindness and maybe even impotence, then it's the Guinness drinker, hands down.

Guinness has a higher concentration than lighter beers of vitamin B, which lowers levels of homocysteine, linked to clogged arteries. And researchers have found that antioxidants from the moderate use of stout might reduce the incidence of cataracts by as much as 50 percent

It's milk's line, but beer gives you strong bones, too.

Everything in moderation including moderation is a motto I've heard bike folks to live by. Whether they're referring to miles on the bike or beer intake or both or neither, whatever to each their own. For some good ideas regarding moderation check out the
Positivity Blog
.
Cheers!
Oh, and I enjoyed sipping one while I wrote this article.