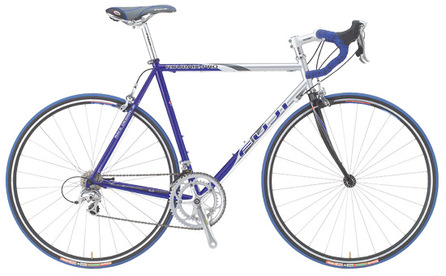 Just wanted to update my post by adding this link affirming what this blog post implies, what was all the fuss in the first place? Nothing.
MUST READ, FUJI OWNER SAYS SPECIALIZED OVERSTEPPED.
Fuji produces one of the nicest road bikes on the market IMHO. Built from Reynolds 853 steel frame material it is a bike that is built to last.
Carbon fork helps reduce some of the bike's weight but who cares, this bike is beautiful. Here's a list of the
specifications for this bike
available from Bikes Direct for only $895 with a suggested retail price of $1595. No, I don't get a commission, I'm not affiliated with Bikes Direct in any way.
If anything, it's surprising that I would suggest bikes listed on their site since they played a small part in the difficulty of keeping my shop open. Customers began ordering bikes from Bikes Direct rather than purchasing directly from my shop as I simply could not compete with the prices which always include free shipping. So, I would suggest to my customer that they go ahead and order the bike from the site and they would pay me to build the bike for them. Most if not all savvy business folk will tell you that you don't own a bike shop to "make money". It's one of the toughest businesses to succeed at and when you do you most likely are happy to keep the doors open and show any kind of a profit. Particularly when the bike shop is located in an area that has harsh winters as the necessity of making hay while the sun shines is crucial. Most often bike shops offer other winter products and services alongside their bikes, such as skiing or snow boarding equipment and rentals. In our case we had a small coffee shop with snack food items like muffins and energy bars. Later we added a line of teas and a computer for a bit of an internet cafe appeal.
Yes, of course our customers appreciated the clean, unique atmosphere provided by the combination of bikes and coffee.Hmm maybe I should have called it the Roubaix Cafe? Named after the Fuji Roubaix of course, as this model of Roubaix is much more in keeping with the long standing tradition of the French classic bicycle race then is the carbon fiber model from Specialized.
There, enough said, just wanted to get my two cents in on the Roubaix nonsense, I figure that's all it's worth.
Cheers!