I discovered this article from
Green Packs
discussing Toyota's efforts to build an electric bike in cooperation with Parlee Cycles. This is amazing stuff, very "futuristic" and really not my "cup of tea" but is nonetheless a very interesting read for folks interested in alternative fuel sources and green energy.
From my experience of working with electric bike projects at our shop, if anyone knows how to build a fast, efficient bicycle that can take a beating it's the companies who have teamed up on that project. For some more personal examples of electric bike posts visit this page at
The Hub Blogs
.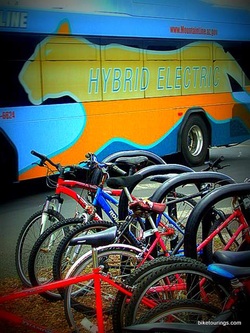 This past summer while traveling through Arizona I wanted to see the solar powered bus station and hybrid electric buses in Flagstaff, AZ. With ample bike rack parking and bicycle carriers, Flagstaff is obviously in keeping with alternative energy and meeting the needs of their avid bicycle commuters.

This raises the question "is this the direction bicycles are taking for meeting demands of everyday bicycle commuters?" Electric and pedal driven bikes that remind me of the old Honda gas powered mopeds?

Several years ago we built up an electric tricycle with extra batteries and had that thing humming along at 40 mph with a kit from Wilderness Energy. (Reviews of that kit at amazon aren't very good and I haven't seen the hub motor kit available with disc brake). Later the new owner of that bike was going to try rigging up some solar kit for riding across New Mexico. Haven't heard from him since but knowing we had some success with the project and after reading the article mentioned previously and seeing the photo at right has got me recollecting the challenges of building something stout enough to handle the speed, braking and bumps that routinely going 25 to 30 mph does to a bike.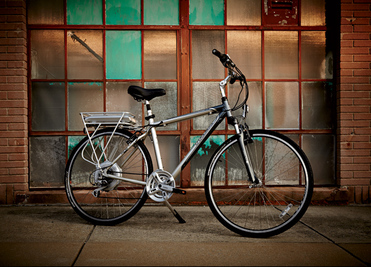 Disc brake is an absolute necessity when considering not only the speeds some electric motors are capable of but also the weight of motor and batteries requires more stopping power, particularly when bicycle commuting in traffic. Another issue when we experimented with our electric bike was tire wear. Having a long wearing tire of high quality puncture resistant design and that offers some vibration damping from harsh or rough road conditions.
Bicycling Magazine
has an excellent article of Four e bikes they tested and reviewed. A retailer of some of those bikes reviewed are at NYCE Wheels. At their site they also have high quality electric motor kits and lots of information for researching an electric bike purchase. So far the kits and bikes from
Currie Technologies
is getting good reviews and there is a kit from OEM that comes with a rear wheel and disc brake. Here is a bit of advice I received from a reviewer.
Don't EVER buy any e-bike unless it runs at 48 volts or HIGHER ! The higher voltage gives you so many benefits. I have tested over 35 different e-bikes and everything under 48 volts has been bad. Almost EVERY e-bike that had 48--52 volts motor and running over 500 watts was GOOD. Max. watts output should be above 1000 watts to get a 220 pound rider up any 20---25% uphill. ALSO, The Lithium batteries (any of them) made in USA or Germany are sooooo much better. Recently the USA and Germany is getting very competitive with Chinese prices and USA has better quality and warranty.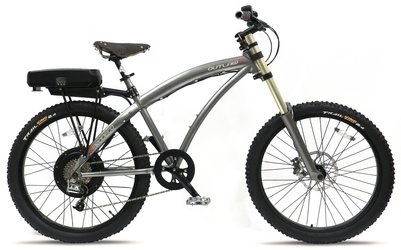 I like the bikes from Prodeco Technologies, not only because these bikes are built in the USA it has some good components including Avid Elixir hydraulic disc brakes, Sram eight speed shifter and derailleur.
Perhaps the most well reviewed e bike I found and is available as a folding bike as well.
SRAM X9 8 Speed Mid Derailleur
SRAM XO Twist 8 Speed Shifter and Avid Elixir 5 Hydraulic Disc Brakes
Rear Direct Drive 48V 750 Watt Motor
51.2V 9 Ah LiFePO4 32 Cell Battery
20 MPH and 25-30 Mile Distance

E bikes aren't just catching on with bicycle commuters, there are quite a few folks using electric assist, solar panels and other gadgetry for bicycle touring. Evelo bikes were used at a T
rans American Electric Bike Tour.
Click on logo for more information at their site. There you find links to other electric bicycle touring information. I really don't have much interest in complicating my life further with a bunch of techno gadgetry for touring. Extra weight, mores mechanical and technical stuff to maintain and that could break down. Perhaps it's like my friend Gilbert says " maybe I'm just an old retro grouch". View our flickr set for our
End of the Year Round Up
, vintage refurbished bikes for touring and commuting from the Bike Tourings' Work Shop.