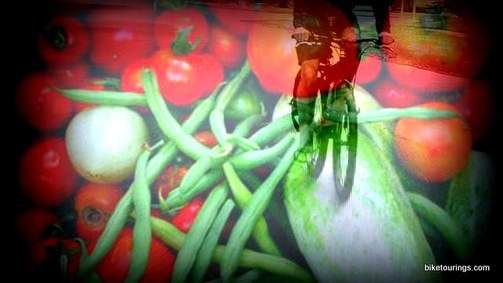 From Thanksgiving through the end of the year, lots of folks take to eating "too much". Or so I hear and most of us hear that as one of the most common "accepted complaints". Year in and year out we hear the same thing regarding the massive intake of food and lounging about that comes from celebrating the Holidays.
Besides eating healthy, local and fresh seasonal foods as a way to avoid feeling bad from Holiday Buffet indulgences, winter brings on the need to fuel up, maybe insulate a bit from the cold chill of outdoor activities. One year while bike commuting sixteen to twenty miles per day in Colorado I noticed I had lost a considerable amount of weight. It was particularly cold without a lot of snow so that my commutes actually felt more demanding due to the stark frigidity of zero hovering temperatures. I was staying hydrated enough which I felt I needed to pay attention to and perhaps contributed to a slight loss in appetite. I didn't notice any weight loss right away as everyone tends to be bundled in thick layers of clothing. It wasn't until our shop owner noticed one day after about three months that I had become very thin did I decide to weight myself and wow, I was down to 140 lbs. He reminded me of the importance of eating more as the body tends to burn more fuel in order to stay warm particularly in extremely cold temperatures.
Since then I thought of how our winter traditions are actually a way to take care of ourselves and provide our bodies with much needed sustenance especially in cold weather climates when working or being active outside. For folks who use their bikes to get work or depend on their bicycle for running errands as well as commuting, bellying up to the buffet is a good idea to keep the body well protected against mother nature's cold, long and dark days of winter. It's
ironic the types of foods eaten that are rich in protein, fat, carbohydrates and high caloric intake are most suited to fueling those winter rides.
I do notice a distinct difference between eating organic, free range and/or local seasonal foods. With processed conventional foods with their chemical additives and such I tend to feel much more dehydrated, lethargic and if I really indulge it is nothing short of a food hangover. Not so with quality foods which are also more readily absorbed and of which our bodies are more receptive to put to use. For those of us who use our bikes for work, play and commuting, there's certainly no reason to feel guilty as we put all that food to good use. Here's to enjoying those leftovers, Happy Holidays.
For information on nutrition, healthy eating, recipes, sustainable living and more visit Lisa Piper's site and blog at Natural Living, shopnaturallving.com
Bike Radar
has an article entitled "
Nutrition, Are You Eating Enough to Fuel Your Cycling
?" Although the article focuses on bicycle training there are some helpful ideas and information and includes other articles on nutrition as well.