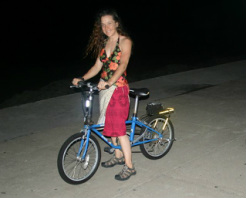 Here at Bike Tourings we refurbished an old '98 Dahon Mariner and we have developed such a fondness for this bike as over the past few years it has provided so many fond memories. When our girls were little it was the bike they learned to ride on. With handlebar basket it has been used for many a beer errand and has been crashed a couple of times getting to and from the pub, with the only consequent bruising being to my own ego, not really.
This time of year we usually find ourselves on long road trips to visit family with the Dahon folded and tucked in our minivan beneath suitcases and bags of mostly women's clothing, food and gifts. Good times, good memories, that's one of the perks of having bikes in one's life. Besides, it's that time of year to be a bit sentimental anyhow.
It's a tough little old bike with plenty of life left, particularly now that we have some new components to add, will blog that later. While surfing the internet today
I came upon this link at Dahon for their Green Awards and their Turn a New Leaf pledge similar to People for Bikes pledge to develop more bike commuting habits as a method of improving our environment.
I nominated Lisa Piper of Natural Living who founded an area organic food co-op, implemented bikes for food delivery before the business grew much larger than bike deliveries can now handle. Since those early start up days she has brought community area leaders and folks together to establish a food co-op garden. Lisa also teaches organic cooking and food knowledge to kids and hosts an annual kid's cooking camp out. She also invested in alternative energy resources by installing a solar powered geodesic dome in cooperation with Pacific Domes of Oregon. Since the kid's camp out is for both boys and girls, everyone pitches in to help set up a tent for the boys and the girls get to sleep in the solar powered dome, also Bike Tourings' work shop.
Most of us bike folk appreciate green practices, healthy food, alternative energy all of which align with the various grass roots bike organizations that promote bicycle commuting and bicycle touring. I'm one such person and have been wanting to find a good "excuse", not that I needed one to help promote the kind, generous and thoughtful efforts of Lisa's team of women who help keep the Natural Living efforts prosperous and smooth. Oh ya, did I mention she enjoys bike commuting? Of course she does.
Hey Dahon, give this woman some strong consideration for your Green Award, she (and women she works with) certainly deserve it.
| | |
| --- | --- |
| Lisa Piper of Natural Living enjoys teaching kids cooperative effort, team work and healthy eating all while having fun. | |