Park Tool Aligning Gauges and Tapping Tools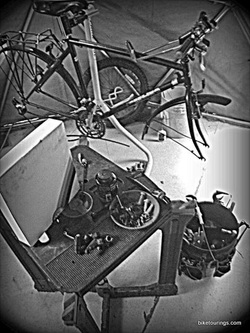 Some of the less commonly used tools are sure nice to have around, particularly when restoring a very damaged bike that others might toss out. An overview of frame and threading tools for restoring an otherwise lost cause without sacrifice.
One of the best things about
Park Tools
is with such good quality a typical product review is unnecessary. Tools discussed here may only be used a few times a year but I'm sure glad I have them when I need them.
A friend of mine travels the country driving a big rig and carries his bike on top of the rig so he can get some bike riding in while on the road. Well, he was driving under a tree, which didn't quite clear the bike thereby ripping the handlebars, stem, cables and levers from the bike. It also damaged the rear wheel and bent the rear triangle of the frame along with the derailleur hanger. Good thing the frame is made of steel as it can be "cold set" (technical term for bending steel) without too much stress and strain to the material with its resiliency.
Most commonly used tool of the group is the

Park Tool DAG-2 Derailleur Hanger Alignment Gauge

. As indispensable to a bike shop as a tire lever, one of the most common causes of competitive mountain bikers losing their accurate indexed shifting is caused by a bent derailleur hanger.

For this repair one of the reasons for setting the dropouts first is because the Derailleur Hanger Gauge has to have the rear wheel installed to use the tool properly. On this particular bike the steel derailleur hanger is integrated with the frame whereas on more current models most frames have a replaceable alloy hanger. I have used this tool to successfully align alloy hangers but when the alloy hanger doesn't hold an adjustment after aligning then replacement is necessary. When my friend's bike was mangled as mentioned it also smashed the pedal on the crank arm thereby stripping the threads.

After prying the bent rear wheel from the damaged frame the first task was to get the rear dropouts aligned so I could get a replacement wheel back on.

For this the

Park Tool FFG-2 Frame and Fork Alignment Gauge

is a must have in a bike shop. I have the older model with the thin steel T handles whereas the newer model has larger rubber handles for comfortably gripping the tool. A very nice improvement when cold setting a severely bent steel frame.

Threaded cup like cylinders permit use of the tool with dropouts of 100 to 160mm. I have used this tool successfully on forks as well as frames saving a lot of money.

Photo at left shows how tool is mounted in frame dropouts for cold setting and aligning. It is important to align the dropouts before using the Derailleur Hanger Aligning Gauge for accurate setting of derailleur hanger.

So, our next task was to re tap the crank arm threads with the

Park Tool TAP-6 Tap Pedal

. This handy set of tools come in sets of two for right and left handed threads and I keep 1/2 inch and 9/16" sets in my shop for just this type of repair.

Park Tool CL-1 Chain Lube

is a good choice as an all purpose shop lube and works well as a cutting oil with the pedal taps. I use an 8mm combination wrench which fits nice and snug on the square end of the pedal tap.

Photo shows tools designed to be threaded through the crank arm while cleaning and re-threading a stripped crank arm for pedal installation.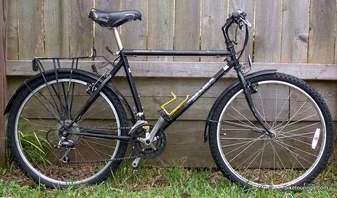 Another tool that is useful for checking overall frame integrity is the Park Tool FAG-2 Frame Aligning gauge used to ensure proper wheel tracking, etc.
Another bike put back into working order thanks to innovative designs and quality products from
Park Tool Co. Visit their site
for any questions regarding the use of tools discussed in this article or for any how to tips and know how of Park Tool products.
Links below provided for information or purchase of tools used for this repair.
Links to Purchase Park Tools for Bike Repair