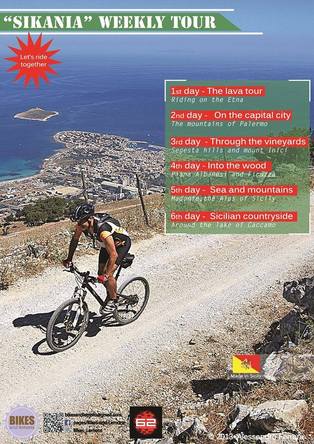 Alessandro Ferrara of the Bicycle Tour Hosting Group "Bikes and Lemons" is promoting their one week tours on the beautiful island of Sicily.
Their tours offer a variety of accommodations and rides for different skill levels. Several different bike paths between Palermo and Trapani are given a theme name, which are listed here.
City Tour is for entry level riders or anyone who wants to discover the food, culture and history of Palermo, Sicily.

Mountain Tour is mostly dry roads and single track with hills and is for more skilled endurance riders. A self evaluation form at their website helps those in question whether they would enjoy that tour.
Art Tour around Segesta is a 35km ride for average skilled cyclists around the archaeological site of Segesta, one of the first Greek colonies of Sicily.
Wine Tour of famous wines of Sicily through vineyard covered hills and landscapes. Accommodations can be selected along the route rather than pre planned, fo those wanting to have a spontaneous wine tasting bicycle tour.
Sea Tour of Castellammare with two tours offered one for beginner bike tours of 20km along the coast of 45 km for more advanced touring cyclists.
| | |
| --- | --- |
| For more information on Sikania One Week Bike Tours and the different bicycle tours offered visit their site at the link provided below. There is no obligation to purchase, beautiful photos and informative site for folks interested in Sicilian culture. | |