Three Speed Simplicity for Bicycle Commuting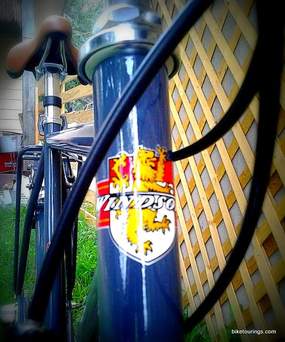 Review of the Windsor Oxford Deluxe for Bike Commuting
When I owned my bike shop folks started asking about the bicycles being sold at Bikes Direct. Customers would provide me with enough detailed information and price that I simply could not build or sell them a bike off the floor for the prices and quality they were sharing with me, particularly with free shipping!
What ended up happening was the customer would purchase the bike and then have me build it up for them and purchase their accessories, and such from my shop.

After all these years of Bikes Direct shipping bikes for free all over the country I decided to purchase a couple of models after looking over the specs. and simply looking for the most bike I could get for the money taking into consideration how hard it would be for me to find an older similar model at a garage sale or craigslist. Second determinant was cost for me to build something similar new. Another criteria was a bike intended specifically for bike touring and or commuting.
First purchase was of this Windsor Oxford Deluxe three speed with Shimano Nexus three speed hub and shifter. With 186% gear range it was plenty for the flat Texas Gulf Coast bike commuting side streets. Having three speeds is just right for a lower gear option when pedaling with a load of commuter items such as groceries, laptop and other commuting necessities. Which brings me to this point of how well thought out the Oxford Deluxe is.

Want to ride your bike while sipping your morning latte? Got it, the aluminum cup holder shown in photo is of very good quality. I used a hard rubber shim to prevent the teeth on the inside of the clamp from marring the handlebars. Cup holder can be placed forward or behind the handlebars, I placed it on the forward side as I prefer hot liquids to spill away from me, not on me while on the morning bike commute. Not a good way to start the morning. A small commuter bell is also included and is very nice to have when commuting on multi use paths or when one's commute necessitates navigating any type of crowded commuter streets to warn pedestrians.

For an avid bicycle commuter to be happy and feel confident about cruising anywhere there ride needs to go a tool pouch with patch kit is included in a handy carrying case. Multi tool included has the wrenches necessary to remove the rear wheel (not quick release) which would most likely be to repair a flat.

As the frame is made of 4130 steel with matching fenders and very sturdy rear rack I concluded that all the accessories and quality added up to be the best bike I could purchase for my money at their site. One issue was encountered while mounting the rear rack to the bike and that was the rack stays which attach at the seat stays interfered with the caliper brake. I was able to "cold set" the stays without chipping the paint. I don't know if this is a common issue on this model or what, but just thought I'd give it a "blog about" for folks interested in purchasing the Oxford Deluxe as the standard model doesn't include the rear rack.
Overall I felt the bike was an ideal ride for commuting most anywhere even hilly areas and the cargo carrying ability of the steel frame and rack makes for confident handling while pedaling with cargo. In case you are wondering I do not get a commission on this bike. Just sharing some quality information. Shop Bikes Direct online I haven't provided a link to their site because I don't owe them anything.
Cheers!
Rideon