Park Tool, Richard Ballantine, Zinn and Bicycle Maintenance and Repair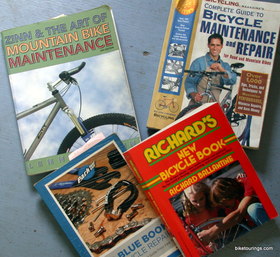 Here is a list of four books for the Bike Tourist's book shelf. Each offers its own unique style in presentation of information and type of information. Click on any of the titles for information or to purchase.
1.
Zinn & The Art of Mountain Bike Maintenance
by Lennard Zinn
Most folks in the bike biz are familiar with this Colorado based frame builder extraordinaire. Considered to be one of the foremost bike experts in the bike country Lennard Zinn offers tips and tricks for getting things done whether you have the money for fancy tools or not.
One of my customers while working in Colorado was 6'10" and I just couldn't get him on a bike where he didn't look an adult on a kid's bike, so he went to Lennard Zinn and had one built. And of course Lennard supplied him with a good fit.
2.
Park Big Blue Book of Bicycle Repair
by Calvin Jones
This is the book used by Park Tool as course material for
Park Tool School
workshops. Park Tool has set and industry standard for bike shops around the country after Howard Hawkins and Art Engstrom started Park Tool in 1963. The Park Tool site offers a vast amount of information from how to repairs to how to use a particular tool. When their repair manual was first published it was welcomed by cyclist's everywhere as an easy and concise reference for any bike shop. Now in its third edition.
3.
Richard's New Bicycle
Book by Richard Ballantine
I have written a review of this book already
Click Here to read it
. A classic fun and informative read of rare quality.
4.
Bicycling Guide to Complete Bicycle Maintenance & Repair
by Todd Downs
This is the manual used at United Bike Institute of Oregon and I still have mine from 1999. Nice thing about this book is that it covers both mountain and road bikes, bike fit and is perhaps the best all in one resource of the four. I have found it a bit harder to accurately access information, where as the Park book is easier and quicker to reference the book by Todd Downs has its place as an all inclusive beginner's guide covering a wide range of topics. Now in its fifth edition.
There are many good cycling books out there. For the DIY, getting a better understanding of your bike or for advanced needing a refresher, the books listed here are used by certified techs. and teachers of the bike industry due to the quality method of presenting the information.