Tire Liners, Kevlar Touring Tires and More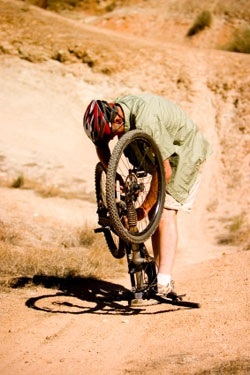 Getting a flat while commuting to work or touring about the countryside can be a hassle. Knowing what can help reduce (or for the most part) completely prevent you from having to stop and tend to a leaky tube can make your rides more enjoyable. For Sure.
Several years ago while working at a bike shop in New Mexico the most common repair and sales were fixing flats and adding flat prevention tires, tubes, sealants, tire liners, etc. I soon discovered that a section of the multi use path of approximately half mile or more was covered by thorns and goat heads. City workers would use string trimmers to cut down the thorny weeds so that the path was littered with the debris. Folks riding with "thorn resistant tubes" didn't have much luck either. Our goal was to be able to ride the length of the bike path without getting a flat while the thorns accumulated so much on the tires that it would rub against the fenders! Our first goal was to determine what tires to stock in a variety of price ranges in order to meet most folks budget concerns but still deliver a quality solution. So, tires? Anything with Kevlar.
These days
Kevlar tires
can be found even at some department stores for about twenty bucks. Get online and shop for some of the top end brands offering long wearing tread design, folding beads, etc and you can spend fifty plus per tire. Kenda K Shield, Panaracer Tourguard, Vittoria Ultrashield and Schwalbe's latest Green Guard technology all offer quality flat protection in a variety of tread patterns and tire sizes. We decided to add a few different tires from a variety of those manufacturers to our inventory.
Once we decided on our basis of tires we sought out
tire liners
. We tried a variety from Slime, Mr. Tuffy and a generic recycled plastic tire liner very inexpensive in comparison to the others from United Bike Supply. We also determined that the "self sealing" tubes which were available at the time just weren't going to offer enough "sealing" for the challenges offered by the negligent weed whacking crew.
Here's one example of our successes and is what I currently ride with today. Schwalbe 700x32 Marathon Touring tire, 700c
slime tire liner
and a Slime self sealing presta valve tube. I had a difficult time locating removable core presta valve tubes at a reasonable price to be able to simply add the slime so I decided we would try our luck with that combo. It worked! And we laughed at the sight of those tires holding their own without fail. Another success with 26" tires we used the IRC Duro Metro with Slime Liner and (what came to be our self sealing standard) Slime Tubeless Sealant that claims to seal a hole up to 1/4 inch and is typically used with ATV tires. With the small chunks of black rubber added to the mix we were only able to pump that stuff into a schrader valve tube. I ordered it in bulk with pump dispenser and didn't tell anyone what we were putting in their tubes unless asked. I liken it to filling an empty Tamari or soy sauce bottle with Bragg's Liquid Aminos for our girls. I don't feel required to explain how I'm helping.
Word traveled fast and sales were soaring.
Everyone came to get "the same tires as so and so" and "do the same thing for my bike as you did for so and so". In a few months we saw less and less flat repairs so I had to send someone out to the bike path with glass shards and roofing nails to bring some work around. Haha not really, but a customer made the observation of my lack of flat repair work and said "let that be a lesson to you".
Alright, so I just thought I'd give it a "blog about" and share that lesson with you nice folks, tried and true flat prevention that works!
Note: In very cold climates my experience has been that Slime can freeze and clump in the tube rendering it worthless come spring. While living in Colorado Stop Flats or Mr. Tuffy liners and Panaracer Tourguard tires worked fine without need of self sealing tube.
Also, for attempting to patch any self sealing tube I recommend trying the Slime Rubber Patch Kit and burning the cement before applying the patch as it is reported to aid faster adhesion and permanency.
Visit our
Bike Tourings' Store
to shop for any of the products mentioned in this article.
For other information on this topic visit "Simple Steps to Avoiding Flat Tires"