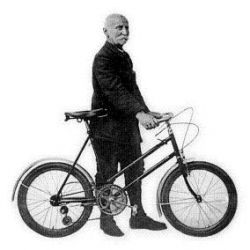 Velocio with his favorite geared small wheeled bike
Velocio
was the pen name used by french man
Paul de Vivie
who lived from 1853 to 1930 and published Le Cycliste.
An intense person and rider there are stories of him riding over passes during winter with no shirt on, etc. I guess people in France enjoy telling fond stories of a person who motivated folks with his eloquent and intimate ability to share his experiences and epiphanies during his rides. He wrote:
"After a long day on my bicycle, I feel refreshed, cleansed, purified. I feel that I have established contact with my environment and that I am at peace".
Supposed inventor of the derailleur he pioneered much of cycle touring in Europe and is credited with having coined the term "cyclo- tourisme" and is perhaps best known for his seven commandments for the wise cyclist.
Click on photo of Velocio provided to learn more about one of the founding fathers of bike touring and commuting.
Velocio's Seven Commandments for the wise cyclist
1. Keep your stops short and few.

2. Eat before you're hungry, drink before you're thirsty.

3. Never get too tired to eat or sleep.

4. Add a layer before you're cold, take one off before you're hot.

5. Lay off wine, meat and tobacco on tour.

6. Ride within yourself, especially in the first hour.

7. Never show off.


Disclaimer: I am not suggesting these as "Commandments" which is a bit too bossy sounding for me, however I feel that some of the Suggestions in the list do make sense.