Updated List of Affordable Quality Touring Bikes
Since my original post last August I have added the Novara Safari to the list as the GT model is currently unavailable. Another bike we like is the Fitwell Bicycle Company's Fahrlander 1 and Fahrlander II. Though the Fahrlander II is slightly more than a thousand bucks, the Fahrlander 1 is a few bucks less so it balances out. Here's a link regarding
Fitwell Touring Bikes
.
A brief summary of four quality touring bikes for under $1,000 with specification overview of each. These are bikes with steel frames worthy of upgrades or changing out components to suit one's needs. GT Peace Tour offers disc brake and is soon to be discontinued but is still available for purchase at this time. Relaxed frame geometry, long wheelbase and designed for comfortable sturdy, loaded touring rides are all shared qualities of bikes listed in this article. With exception of the GT Peace Tour, these bikes include a quality rear rack built with three rack stays for heavier loads. As all four bikes listed routinely sell new at six or seven hundred dollars any upgrades or add ons to personalize for one's needs still keep the price under a thousand dollars. Enjoy.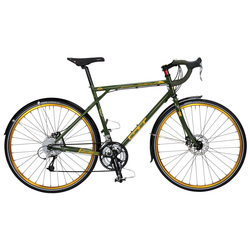 GT Peace Tour, Click on link provided above for information or purchase.
A frame made of legendary Reynolds 520 tubing, Schwalbe Delta Cruiser 700 x 35c tires with puncture protection, 27 speed drivetrain, bar end shifters which are very nice when wanting to add a bar bag and not have the shifters interfered with. Alex double wall trekking rims and sealed hub wheelset. 4130 cr-mo touring fork with rack and fen
d
er braze ons and is the only bike shown here with fenders included and a threadless stem. Yet, is also the only bike in this list not sold with rear rack included.
Proceeds from the sale of each bike will help
Wheels4Life
continue to provide low-cost bikes to individuals in developing countries who need transportation for getting to school or work, or for accessing health care.
Always feels nice to support a good cause.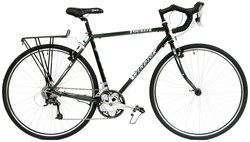 Windsor Tourist
Another nice bike for the money, I just don't care for the way it is geared. Rear cassette is 11-32 and Truvativ Crankset is 30,42,52 rings combine for something I wouldn't want to pedal a load up a hill with. Tiagra 27 speed drivetrain with Deore rear derailleur and Sora front is good stuff. Easy to replace quill stem and price of approximately $150 to $200 less than the other bikes of this list allowing room for upgrades and such. One of two frames listed here with braze on spare double spoke holder on left chainstay. Nice.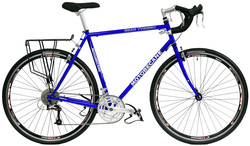 Motobecane Gran Turismo
Hand built stress relieved wheels from Vuelta come with a very nice warranty here's link for details
Vuelta Wheel Warranty
. This is another quality 4130 cro moly frame with double spare spoke holder brazed to chainstay. Only thing I don't like about this bike is it's not made in a 56cm frame size, offering 54 and 58cm as well as other frame sizes of course. What I do like is this bike offers the best fork of this list in a quality brazed crown fork. Unlike the oval steel forks on the other bikes of this list.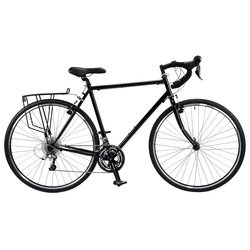 Nashbar TR1 Touring Bike:
"Bike commuting, touring or spinning along the greenway, this road bike does it all. It's designed to be comfortable and efficient during long-range bike trips, and it's built with durability in mind to handle the extra cargo".
Shifters and derailleurs are the solid and dependable Shimano 105, quality chromoly steel frame, double wall rims and 36 spokes front and rear, the more the merrier for touring. Quill stem for easy single through bolt height adjustment and two bolt plate design for easy replacement of stem if desired. This is a popular bike and size availability fluctuates so if you see your size available get one.
Not geared well for loaded touring of long steep hills, and suggest investing in upgrading wheels for touring. As a bike for commuting of relatively smooth roads this bike is a good value. Price of this bike permits upgrades and still keeps price under a grand.
Click on photo or link provided for information or purchase.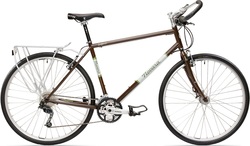 Novara Safari
available at REI is a versatile, fairly popular touring bike that has been around for several years. Made from Reynolds 520 Steel Tubing makes for a long lasting comfortable ride, multiple position trekking style handlebars, solid rear rack and 27 speed drivetrain.
Disc brake compatible frame and fork with mid fork eyelets for ease of front rack installation. Specifications are subject to change as far as component groups are concerned. Click image or link provided for more information.
Note: A suggestive tip for purchasing bikes via the internet as frame size doesn't necessarily determine stand over height. If the stand over height is not indicated contact customer support before purchasing. With known stand over height, measure your inseam with your riding shoes on to determine at least one inch of stand over clearance, two or more inches if you prefer or if you're 5' 10" or more. A simple suggestion for online shopping of bike purchases.
Cheers!