Vintage Steel, Rigid Mountain Bike Fun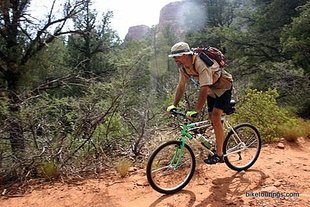 Two weeks in Arizona visiting such beautiful country this is a quick look at some of the fun that was had.
First stop was Sedona where I took my '93 Scott Peak for a shake down ride around Bell Rock before the monsoon rains set in. Trails around Bell Rock were smooth and easy riding with gentle climbs and beautiful views. Front brake came off after some hard braking and I was able to replace the mounting bolts from
Absolute Bikes
who didn't charge me for the parts. Thanks!
Next stop was Heber-Overgaard where I was sure glad I had gotten the brake issue resolved as the steep rocky terrain proved to be quite challenging on an all rigid bike. Bike performed pretty well I was only thrown from the bike once. It was a few days before I acclimated to the altitude of near 7,000 feet and then I was able to get my ride on.
Photo below is of the Tall Timbers County Park trail in Overgaard, AZ.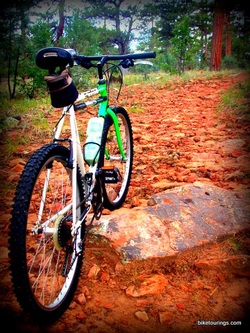 Rode most of the trails at the Tall Timbers Park near Black Mesa with views of the Mogollon Rim. Glad I had changed out the cantilever brakes to linear pull as some of the more technical trails proved to be very unpredictable as the trails would change from rocky hard pack to loose thick sand. Could have used some better tires but all in all no complaints.
Monsoon season was kind as it was overcast and cool with the only moisture being a light drizzle which proved to be refreshing.
After three days of the trails kicking my butt by the fourth day I was "feeling right as rain" with cloud cover softening trail colors lending a pastel ambiance of tender loving care to myself and surroundings. I avoided the isolated storms and showers which would roll in late afternoon and early evening dowsing the area with much needed precipitation. For folks living in Phoenix, AZ it's only about a two hour drive for cool, refreshing mountain bike trails that aren't crowded with stuff for the entire family to enjoy. For more information on the areas discussed click on links provided in body of text on this page. Next article will be from Flagstaff and Antelope Canyon, AZ
Cheers!