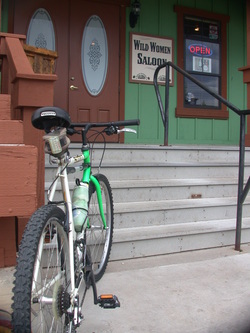 Wild Women Saloon & Grill, Overgaard, AZ
Alright, we decided to travel to the Heber-Overgaard area of Arizona. I had never heard of the area but when I saw how much cooler the weather was compared to Phoenix, yee ha.
Arrived at the beginning of monsoon season, rolled in at night following the curving mountainous two lane highways while the girls complained of feeling car sick.
Although we only stayed one full day before setting out to Sedona I was able to ride around town and get in some trail riding. Situated atop the Mogollon Rim on the southwestern edge of the Colorado Plateau at approximately 6,500 feet making the area fun to ride and explore.
First point of interest was the Wild Women Saloon and Grill where the food and service is excellent.
Wasting no time I headed out on Hwy 260 where I had been told was an interesting wood working shop. Just off of the highway is some of the most interesting wood working done in a variety of styles, most of which is hand crafted right there at their store. Wild Woods Gifts and Rustic Furniture is quite a sight with massively made pieces wooden furniture, humorous chainsaw carvings and other exquisitely made pieces.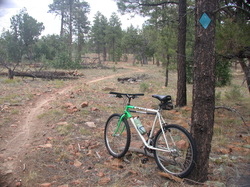 Mountain Bike Trails at Tall Timbers Park
I had set out to ride some trails without any maps or information about the area. Trails are easy to find like the one pictured here at Tall Timbers County Park. Some fast single track, tough climbs and pretty technical rocky terrain makes for fun mountain biking whatever your riding skill.
What a fun area and cool way to beat the Arizona heat as temperatures are routinely up to thirty degrees cooler than Phoenix and an approximate two hour drive. Besides mountain biking winter offers skiing and other year round activities. For more information visit the
Heber-Overgaard Chamber of Commerce.
Well, I'm headed for Sedona and on to Flagstaff.
Cheers!