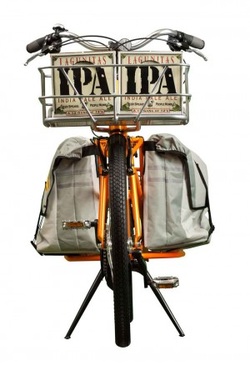 People for Bikes
asks cyclists to share their reasons for riding. Ever taken time off from riding? Sure, most of us have at some point and for varying reasons, a few weeks or perhaps even months. How about a year? Ever taken an entire year off from riding? With the exception of the weekly neighborhood jaunts, mostly bicycle commuting I found myself having not been on a nice long ride for what is going on one year.
I've learned from it, putting it to good use and blaming noone, you know the guy from Caddy Shack. Joking aside I took a year off of riding as the dulling effect of a lack of enthusiasm based on the fact that it hadn't become a habit with the community I'm living at. Even as I write this I am pondering some of the negative remarks folks have made when hearing of my perpetual pedaling when I first moved to the area. "That's dangerous, stupid, ambitious, etc., etc." and other more creatively objectionable reasons for not bicycling besides the typical weather man blahs "It's too hot, cold, windy, wet, etc."
As for my own perception of relating, responding, or lack thereof is based on the idea that I am no "hero". That is to say I'm not on a mission of social reformation to change other people's minds to fit my own personal interests. So after awhile feeling like the odd guy out (which is very well and good most of the time) part of me simply said ah F--k it!
Being from Portland, Oregon the bike utopia of our wonderful nation as well as a micro brewery haven. "Bikes and beer, welcome you here" may one day be displayed on the Welcome to Oregon signs. Hey, does that go along with "keep Portland weird?" Hmm, perhaps I unwittingly explained the Portland Bike Boom (as it has been referred to). Anyhow drinking and riding a bike is more socially acceptable than drinking and driving. I know it's possible to receive some form of citation for that kind of behavior, nonetheless it is more acceptable. My point being that there are a lot of folks who like to drink around here (won't say where yet), they'd be better off riding than driving particularly when they live within a very reasonable biking distance.
My first effort of bike advocacy in this area was a display of pub hopping on my bike. Expecting to receive some acknowledgment at my display of good common sense with I felt a bit saddened when I met with cynicism, sarcasm or no interest at all. Hey, better than being dismayed. No, if I had been dismayed I would probably feel lost and despite these rather gentle ramblings, I don't feel lost, not at all. Here's what I learned; Number one is that this area is ranked 48 out of 50 making it the third most obese out of shape area in the country, second the area is normally very hot and humid a good portion of the year, third that a lot of folks here like to drink. So, what does a good bike boy from Portland, Oregon do? Thoughts of placing an ad on craigslist which reads "I Build Comfortable Commuter Bikes, an acceptable form of intoxicated transportation". Well, like I said I'm no hero. Thank goodness my reasons for riding are not simply so I can have an approved method of drunken transport.
What's the lesson here? Don't drink and ride unless of course you are wanting to get in some more junk miles on the bike.
Reason I Ride; Took a year off, feel like poppy cock (no I don't need Viagara as a result of opium) and knowing that a good long ride will make it all better. Next stop, Arizona, which is 1300 miles from south of Houston, TX.
Cheers!
Jenson USA is having a huge July 4th sale with hundreds of items for bike commuting.