Twenty years ago I was working on becoming a professional photographer and spent a lot of time with much older accomplished and successful photographers. During our coffee chats I used to suggest the idea for a coffee table book of picturesque alleys. Well, I'm not as serious a photographer as I was back then though I very much enjoy biking around with a camera. While visiting bicycle friendly Flagstaff, Arizona I decided to hop on the bike for a tour of the city's bike friendly alley ways. I like the photo essay theme, check it out.
Fun stuff, enjoy, Cheers!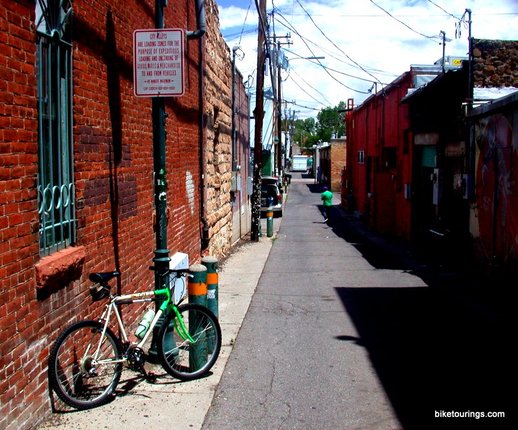 Bicycle touring alley ways in bike friendly Flagstaff, AZ. Alley sign description as Sign Reads "CITY ALLEYS ARE LOADING ZONES FOR THE PURPOSE OF EXPEDITIOUS LOADING AND UNLOADING OF GOODS, WARES AND MERCHANDISE TO AND FROM VEHICLES"