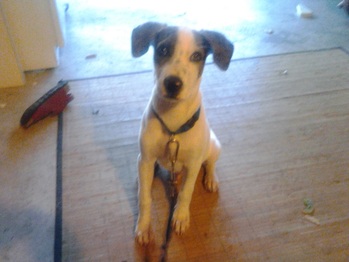 Bubby, our shop mascot
I appreciate pets and have had some good cats also. Couple years ago the girls wanted a puppy for the house and store so we looked around at the shelters, etc. for a few weeks or more.
Then we found Bubby who was just a few months old at the time and we were hoping for a smallish dog which we were convinced at the shelter he wouldn't be larger than thirty pounds.
Hmm, well two years later he's a 60 lb. Catahoula who has turned out to be quite a character. Sweet, gentle loving with our two cats and the girls. Recently a down on his luck restaurant worker chose to set up his tent outside our back yard gate and Bubby wasn't putting up with that. When I talked with the guy about his situation he was scared of Bubby describing our dog as some sort of vicious pit bull.
Well, he's just a good watch dog now that he's approaching two years old, I just wanted to give our beloved pup a "blog about". When my fiance's father was sick in the hospital just prior to his passing Bubby helped by being his cute, silly and supportive self. He's still here and will be with us for years to come I'm sure, ever watchful of shenanigans, looking out for his girls, kitties and property and enjoying the cute complements from our customers, playfully engaging with workers and sniffing the occasional skirt, doesn't make him bad. Oh ya, he loves bikes. Good Stuff Bubby
Cheers!


| | |
| --- | --- |
| Bubby recently learned better cooperation on his leash while I hop on the bike to exercise him as he needs to run quite a bit. One night I brought to our local pub riding the Dahon Mariner and while approaching an intersection on a cobble sidewalk he suddenly decided to bolt left just as I was going off the curb with the front wheel and ya, you guessed it, I hit the pavement pretty hard, no stitches needed. He's fun, makes us laugh, looks out for things, he's just such a good boy, we love him. | |