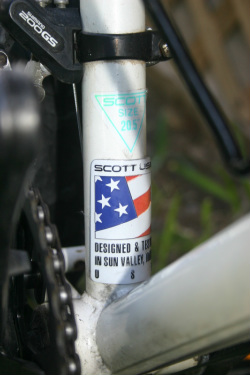 As a Coast Guard veteran and avid bike dude, Memorial Day weekend marks the beginning of summer vacations, perhaps honoring military service folks and the end of National Bike Month.
This particular weekend happened to be a full moon lunar eclipse so the astronomy and astrology buffs had a boon of a time I'm sure. What I did was attend a new age psychedelic potluck (if you know what I mean) listened to some awful racket they were calling music,my fiance was having a fit as she brought her 13 year old daughter and a friend and concerned about exposing them to such riff raff.
Brought a couple of fun loving bikes including a '98 fold-able 5 speed Dahon Mariner and sad to say there weren't any interested bike folk........at a beach party?!?!! That was the most disappointing part for me anyhow they'd obviously done too many drugs. So, what's a bike person such as myself to do? Fret over the situation? Worry about teenage girls getting a second hand high? Nope. I hopped on my Mariner, with handlebar basket and grabbed myself some refreshment, that's right I drank beer and rode my Dahon and didn't make me bad or good for that matter but certainly indifferent until 4am when I found myself shutting down some acid tripping music folks. Not too angrily, just enough to have fun with those boys. Awoke to fiance having already packed everything up and ready to leave, exited the entrance as a statement. Haha, came home and finished this bike repair project, love the flag and such good timing. All in all I had a pretty memorable bike month even if the weekend was one we are going to forget. Cheers!.