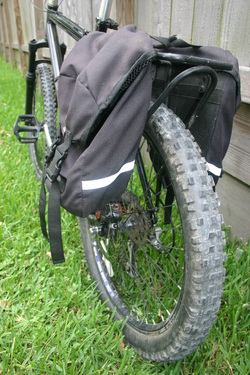 Several months ago I decided to build up a Nashbar hardtail mountain frame with 26" wheels as a commuter for areas that are not so called "bike friendly,"
Built up from the most inexpensive parts I could find this bike has gone through many changes in its transformation process. : ) Kinda liken it to changing my dog's name every month.
Anyhow, an old friend of mine from childhood was working in town so we got to visit and chat about bikes. He said, man I would really like to have a beach cruiser, then he wanted a mountain bike, then he wanted some type of touring bike. I used what might be interpreted as indecisiveness as inspiration for a fun bike that I wouldn't otherwise have considered building. Thanks Jon.
With a beach cruiser style posture and wide mountain comfort riser bars it literally has the rider feeling as though they're "kickin' it" on the pedals. There's also a sense of "kickin' it" when there's no bike lane or sidewalk in what would be termed not bike friendly areas, on this bike it's not an issue. Added a rear rack, two goody bags (panniers) and Avid BB7 disc brakes. Looking to replace fork and 24" rear wheel, until then it rides just fine. Good Stuff, I know this because on Jon's subsequent visit he loved the bike so much he wants to buy it. Cheers!